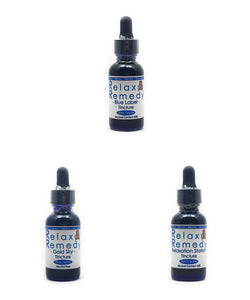 3-Bottle Tincture Variety Pack
Regular price
$112.00
Sale price
$147.00
Unit price
per
You know you want to experience incredible tinctures but you can't decide which one? Then this is for you.
You get one of each at an incredible discounted price:
Relaxation Station - Combining Red Label 100x, Blue Lotus Ext. 50:1 & Kava Kava 70% this tincture is sure to provide you with a one-way ticket to relaxation. 
Ingredients: Red Label- 6%, Kava Kava-6% , Blue Lotus ext- 2%, Alc.- 43%, Distilled water- 43%
Weight: 80g
Gold Sky (Alc. Free) - No expense was spared in creating this blend. It is top of the line with a huge amount of both Gold Reserve & Blue Label ext. in each bottle. Want something that packs a punch? Try this.
Ingredients: Gold Reserve- 6%, Blue Label 100x- 6%, Distilled water- 88%
Weight: 80g
Blue Label 100x - The original tincture made with our #1 Best Selling Ext.
Ingredients: Blue Label 100x-12%, Alc. 35%, Distilled Water- 53%.
Weight: 80g 
Disclaimer: Sold as a bulk botanical with no directions or claims.
These statements have not been evaluated by the Food and Drug Administration. This product is not intended to diagnose, treat, cure or prevent any disease.
---