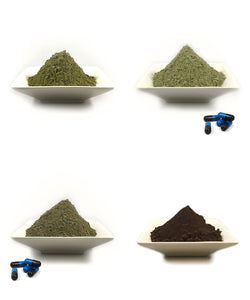 Best Seller Starter Pack
Regular price
$40.00
Sale price
$46.00
Unit price
per
Searching for the perfect products for your needs can be confusing and extremely time consuming. Another, is deciding whether you would like regular powder, capsules, extract or even enhanced varieties!
We've made life easy by taking our #1 BEST SELLING product in each category and offering them as an incredible combo pack at an unbeatable price! 
You'll receive:
Powder -  MD 25g
Capsules - White Malay 30 Count
Ext. - UEX Ext 1g
Enhanced - Ultra Enhanced RB Capsules 10 Count 
MD Ingredients: Red tea powder- 50%, green tea powder- 50%. (Weight: 30g)
White Malay Ingredients: White Tea Powder- 100% (contained in Gelatin Capsule). (Weight: 20g)
Blue Label Ingredients: Blue Label 100x- 100%. (Weight: 2.8g)
Ultra RB Capsules: Blue Label 100x- 50%, Red tea powder-50% (contained in gelatin capsule). (Weight: 10g)
You truly get an incredible selection with a combined value of over $45! However we're offering it all at just $40.
Disclaimer: Sold as a bulk botanical with no directions or claims.
These statements have not been evaluated by the Food and Drug Administration. This product is not intended to diagnose, treat, cure or prevent any disease.
---