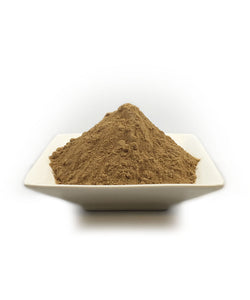 Chuchuhuasi 5:1 Extract
Regular price
$7.00
Sale price
$21.00
Unit price
per
Chuchuhuasi (Maytenus krukovii) 5:1 Extact from the Amazon Rainforest. It's used across South America as an all natural remedy for pain, inflammation, arthritis, rheumatism and as an incredible libido enhancer. Chuchuhuasi works as an incredible all-round remedy. It can be used on its own or alongside your favorite botanicals. With our powerful ext. it makes taking your daily dose of chuchuhuasi easier than ever! We hope you enjoy it and use chuchuhuasi daily!
We would recommend mixing 1/4-1/2 a teaspoon with your favorite beverage. Or you can turn it into convenient 500mg capsules with our Capsule Machine and Empty Capsules. Check out our Chuchuhausi Capsules.
Ingredients: Chuchuhuasi 5:1 Extract - 100%.
Please Note: Sold as a bulk botanical with no directions or claims. These statements have not been evaluated by the Food and Drug Administration. This product is not intended to diagnose, treat, cure or prevent any disease.
---