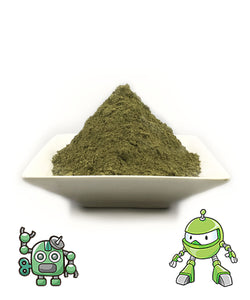 Green Machine Malay Capsules
Regular price
$12.00
$40.00
Unit price
per
Our Latest & Greatest! If you have a busy life or work schedule that makes you feel like a Machine...tackle it and feel good with GREEN MACHINE. You'll have a pep in your step & be ready to go. These capsules are produced using the finest Malaysian green vein. Wild harvested with no pesticides to ensure you receive the same great product time after time. We hope you enjoy these capsules as much as us!
Be sure to check out our whole range of capsules! 
Ingredients: GM Powder- 100% contained in gelatin capsules
Weight (including packaging): 30 Count - 20g, 60 Count - 35g, 120 Count - 65g
Please Note: Sold as a bulk botanical with no directions or claims. These statements have not been evaluated by the Food and Drug Administration. This product is not intended to diagnose, treat, cure or prevent any disease.
powder image created by blusprklyeyz
robot images from PNGTree website
---