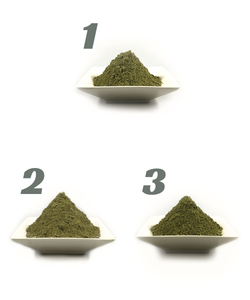 Hybrid Maeng Da Variety Pack
Regular price
$54.00
Sale price
$60.00
Unit price
per
Hybrid Maeng Da Variety Pack
We've discovered 3 incredible hybrid Maeng Da varieties and we want you to get the opportunity to try all three & decide which one will be selected as our next strain!
You'll receive 3 x 50g Hybrid Maeng Da packages, each labelled #1, #2 & #3. Within 10 days of receiving your package you'll get an email and have the chance to write a review. Let us know what you think & give your honest opinion on which one should be selected & as a thank you you'll earn a $10 store credit*! Be sure to include your order # or name in the review so we can credit your account. 
We have a small batch of each type so be sure to get your set today before they're gone!
Variety Pack contains:
1 x 50g Hybrid Maeng Da #1
1 x 50g Hybrid Maeng Da #2
1 x 50g Hybrid Maeng Da #3
* Limit of one store credit per customer.
Disclaimer: Sold as a bulk botanical with no directions or claims.
These statements have not been evaluated by the Food and Drug Administration. This product is not intended to diagnose, treat, cure or prevent any disease.
---