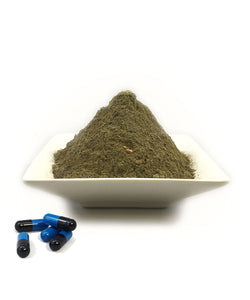 M.C.G.T Enhanced Thai Capsules
Regular price
$16.00
$50.00
Unit price
per
We looked into the best potentiators on the market today. After many months we found the perfect combination that complements the Red & Green Thai mixture. Included in the powder is Magnesium Citrate, Turmeric Ext., Grapefruit Ext., and Cayenne Pepper. We're happy to offer M.C.G.T in capsule form. You'll receive the same great powder packed into 500mg capsules.
This blend is completely unique and something you won't find elsewhere. We hope you give it a try and enjoy it!  
Ingredients: Red Thai Powder- 35%, Green Thai Powder- 35%, Magnesium Citrate-10%, Turmeric-10% Ext., Grapefruit Ext.- 8%, and Cayenne Pepper- 2%; (contained in gelatin capsules).
Weight (including packaging): 30 Count - 20g, 60 Count - 35g, 120 Count - 65g
Please Note: Sold as a bulk botanical with no directions or claims. These statements have not been evaluated by the Food and Drug Administration. This product is not intended to diagnose, treat, cure or prevent any disease.
---