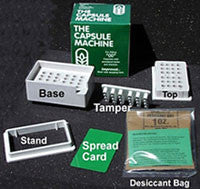 The Capsule Machine - Size 00
Regular price
$18.00
$0.00
Unit price
per
Fill 24 capsules in a matter of minutes, saving you time and money. This machine could not be more convenient and easy to use for all your capsuling needs. It comes with everything you need and allows you to choose exactly what powders you want to include giving you peace of mind. Works best with our 00 empty capsules which you can get buy here.
Automatically joins and ejects filled capsules.
Faster and easier to use than other products available.
The Capsule Machine Includes:
tamper stand
one desiccant bag
size holds about 650 mg
One teaspoon will fill about 5 capsules
Used for all types of herb and vitamin powders
Fills 24 capsules in as little as two minutes!
Made in the USA 

Weight: 380g
---